This young IT-worker has been previously a volunteer, an animator, and a worker in the Youth Commission of the UGCC Lviv Archeparchy and the head of the Charity Organization «The Fund Together for Youth», founded by the Salesian priests.
She started on her way in the UGCC as an animator in children's camps at the age of 12 years old. Anastasia has shared with the participants of the Management Program, being organized by the Youth Commission, among which were the heads, deputy heads, and activists of the youth organizations, what useful skills were taught and given to her during her many years of working in the Church.
Читай українською: АНАСТАСІЯ ГІЙ: ЩО ЦЕРКВА МОЖЕ ДАТИ IT-ШНИКУ
Responsibility
"Responsibility, for me, is being aware of the fact that you are the reason for everything happening in your life. It is you.
I do not exclude that God takes care of us. He does care, very strongly. But, very often, we get closed from it. Besides, we have, in our Ukrainian mentality, such an attitude: let God's will take place. We just sit still, and, if something didn't come about, we just know that «it's not fate».
The sense of responsibility, the point of encouragement towards acting and doing what you feel to be right and necessary, has been instilled in me by the Church, by people I had been working with, by their own example."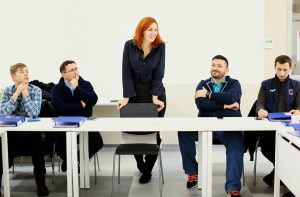 Organization skills
"When organizing a trip to Taizé or a camp, one needs to take into account plenty of things. If you do your camp for the first time, you are afraid. If you do it for the third time, you know already all the important points. Your experience, which seems insignificant, such as the necessary number of markers, Whatman papers to take, etc., will be useful in a completely different environment. People sometimes can be bewildered: how do you know that?
When I came to work in the IT-environment, it was like a different planet for me, a different world. On the second week of my work, we had to organize a celebration, and we had to decorate a celebration hall. I proposed to take some colorful ribbons and colorful small flags and hang them all over the room, like the beach parties in American films. Everybody started thinking, and someone asked: "Great idea, but how shall we do it?" And I said: "We take a sheet of colorful paper, fold it in two, cut out small triangles, and stick them to the ribbons!" And it was mega-great! Everybody took millions of photos under these decorations.
Nothing difficult, but, in reality, it's your experience which you use and make others be puzzled."
Love to People
"Traveling is the time which determines everything in a relationship. In just two days lived in travel, two years of spending time together in cafés can just go away.
When you don't sleep enough, when you are angry, when we have to only eat buckwheat while the boys want to have meat, when we forget something and have to prepare quickly, when it is 3:30 am and you have to greet the children with a wide smile at 7:00 am, or when we have no warm water to wash ourselves, then you understand the value of everything you do. When people are extremely angry with each other in the morning, but understand that they have a goal which is bringing up their children, what can you give them? All of those things go into the background. When you know what you work for, you are here.
Tolerating each other, loving each other, accepting each other as we are, these are things we really need and can learn."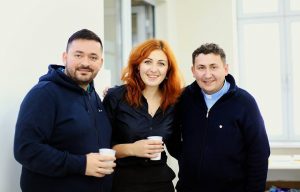 Confidence
"It very often happens that we are comfortable to stay here together, in our community. We travel, but there's still the world around us from which we are not always able to get close to. There are other people with different views. Sometimes, something inside us pushes us to make a step backward: I will stay in my community, we will spend time together, but, if not, I will keep silent somewhere in my university group about what I am doing.
Sometimes, people, who earn a lot of money, forget about human values: everything is okay, and there is no need in religion.
When you start doing the right things at work, and demand that others act with responsibility, to work for results, others will ask you, "Why do you act this way?" You have a lot of experience behind you! And you say, "Because I had been a volunteer for many years, because I participated in such communities, and, now, I do not denounce this. I am like this because I am a Christian, and this is important for me." Then people start looking at this in a different way. I do not step backward and think, "Leave me alone;" "I will go to the church by myself;" "Oh my God, someone saw me there from my work, what they will say about me?"No. I know what I am doing, and I know why I am doing this.
When you do what you consider right and feel happy with it, all the circumstances around you do not really matter."
Living  Life in the Fullest Sense of the Word
"You live. No other moments can give you the full sensation of it. Your life is only here and now, not in some distant plans, not in some distant dreams. It is great when we have dreams and plans, when we know what we want to achieve. But it is important to be happy, in this instant and in every moment of your life.
We are here, and we will work today. It is really cool that you came here. I know that it is not by chance, that it is really important for you. I wish you great success. I wish for you to carry the light you have inside into your communities."
Reference
Management Program is a series of lectures and meetings dedicated to various aspects of management activity and to the most frequent problems faced by the directors of youth organizations and communities. The program offers an area for the development of young Christian leaders, as well as a site for the meeting of Lviv communities with the UGCC Lviv Archeparchy. Such leaders will have an opportunity to cooperate, to create, and to realize common projects on an archeparchial basis.
The event organizer is the Youth Commission of the UGCC Lviv Archeparchy. Training started on December 3, 2016 and will last until September 2017.
Alongside nine basic lectures on the topics: "Leadership," "Team Work," "Skills of Efficient Communication," "Effective Conflict Resolution," "Strategic Planning," "Project Management," "PR: The Marketing of Parish Communities," "Public Speech," and "Church History", the participants will have intellectual breakfasts with interesting people, webinars, recreational meetings, open meetings for communities, the writing of projects, and the possibility of receiving funds for their realization.
Recorded by Marta Zozulia
Повна або часткова републікація тексту без письмової згоди редакції забороняється і вважається порушенням авторських прав.